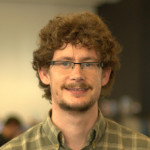 Hi.
My name is Donald Gordon.
I have worn lots of hats but right now the hat that's jammed quite firmly on my head is that of pastor in the Presbyterian Church of Aotearoa New Zealand (PCANZ).
Since early 2020 I have been the minister at Wadestown Presbyterian Church in Wellington.
In the olden days, I worked in IT, primarily as a software developer, for a variety of employers and then self-employed.
In 2011, not too long after getting married, I heard the call to become a minister.  I began my second run through university to gain a Theology degree.  Then in 2018 our family moved to Pleasant Point, near Timaru, in the beginning of 2018, for a two year ministry internship.
When I'm not pastoring I brew ginger beer.  Doing things with computers was a big hobby of mine; then it became a career.  Finally it's a hobby again.
If you're in the area, come and say Hi.
Yours in Christ,
Donald